People are different. That is a fact of life. Find out who stands where in various categories: cutest, sexiest, smartest and many more. Most importantly, find out where you fit in!
When someone is compared, they may be notified. Your friends cannot find out how you compared them except when it's an innocuous compliment. For example, if someone loses a comparison, they will not know that they lost. If you rate compare someone on a dating question, they won't know how you chose. There is no way for someone to look at the rank lists and see who said what about them.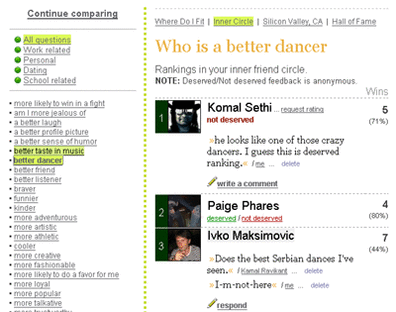 You can get this application here: http://www.facebook.com/apps/application.php?id=2433486906&b&ref=pd
Ad blocker interference detected!
Wikia is a free-to-use site that makes money from advertising. We have a modified experience for viewers using ad blockers

Wikia is not accessible if you've made further modifications. Remove the custom ad blocker rule(s) and the page will load as expected.